Chancellor Howard Gillman's Remarks at Veterans Day Ceremony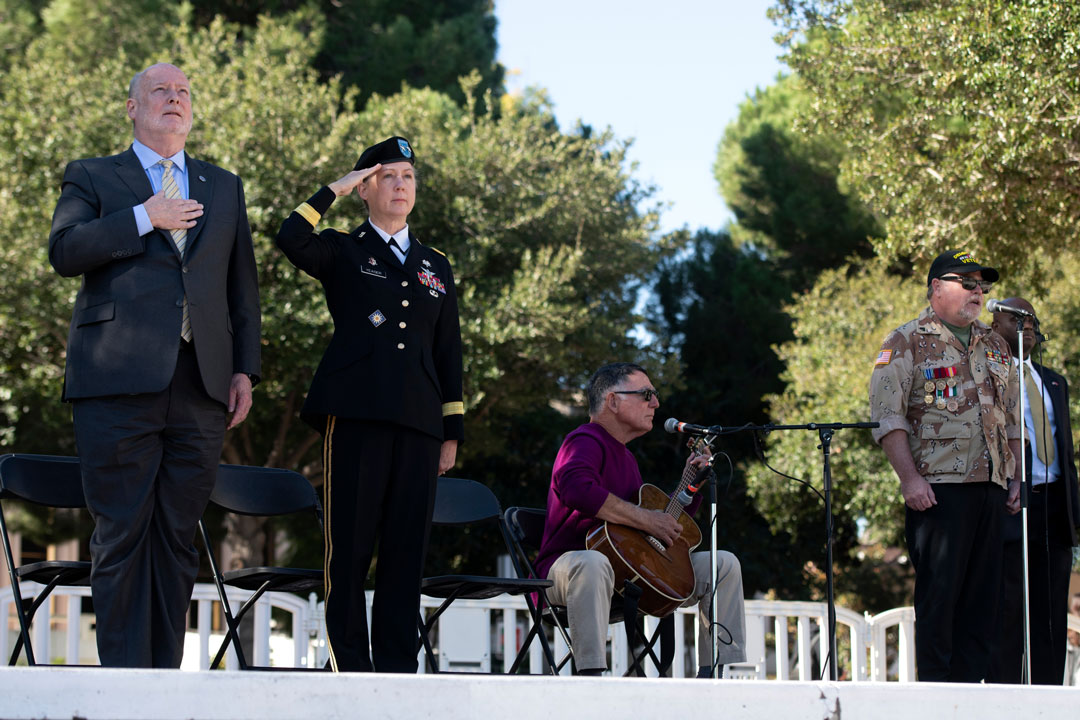 Good morning to you all. It is truly a privilege to be here with you to celebrate the members of the UCI community who have served this country in the armed services. 
Would all those who have served or are presently serving in our nation's military please raise your hands?  You inspire us with your sense of honor and duty, and your dedication to the defense and well-being of this great American republic.  Words alone cannot adequately express our boundless gratitude and admiration.  Your talent, your character, your example make us a better and greater university. 
And as any of our veterans can attest, when a person serves in the military, his or her whole family also serves.  Would all the family members of our veterans or active-duty military please raise your hands?  Your love, your support, indeed your sacrifice played a large part in sustaining your family member, and we are honored you are with us today. 
There was a time, and not all that long ago, when military service was commonplace in this nation, when donning a uniform to protect and defend our country's values and ideals was normal, even at times expected.  But today military service marks one as a very special person indeed, a person who understands what it takes to build and strengthen the ties that bind us together as citizens and residents of this extraordinary nation.
And that knowledge is needed today as much as it has ever been.  We live in a world riven by discord.  In the Middle East, in Ukraine, and in other, less publicized places, soldiers and civilians alike are dying in mighty clashes of tanks and artillery, rockets and rifle fire.  Here at home, those we disagree with politically are considered enemies, and ancient prejudices are rising from the gutter and poisoning our community.
You who are veterans bring to this campus, to our classrooms and meeting places, your diverse viewpoints and hard-won world experiences. You have the knowledge and ability to inform rich discussions.  And your leadership skills, forged during your service, enable you to mentor and support your fellow students; effectively lead group work; and thrive in ambiguous and challenging team assignments.  I urge you to channel these military values and strengths, such as diversity, camaraderie, and leadership, to help our campus community get through these unprecedented times. We need you.
Thank you for your service to this nation. Thank you for your service to this campus community.
And now it is my extraordinary privilege to introduce to you a fellow Anteater and fellow veteran, Major General Laura L. Yeager.
Major General Yeager's active military service began in May 1986 after graduating from UCI with a degree in psychology and receiving her commission as a Distinguished Military Graduate from the Reserve Officer Training Corps program at California State University, Long Beach. From that point forward, she served in a variety of positions of increasing responsibility as a Medical Service Corps officer and later as an aviation officer flying helicopters. 
Her service record is both long and distinguished.  Among her assignments, from 2010 to 2011 she deployed to Iraq as the deputy commander of the 40th Combat Aviation Brigade and assumed command of the brigade shortly after its return.
In 2017, she was selected to command Joint Task Force North and spent the next two years at Fort Bliss working with partners from among active-duty forces, Reserve and National Guard components, and the nation's law enforcement agencies to combat drug trafficking and transnational organized crime along the nation's southern borders.
Starting in 2019, Major General Yeager served in command of both the California Army National Guard and the 40th Infantry Division for three years. She retired after 36 years of service in June 2022.
Please welcome Major General Laura L. Yeager.