We have come to the end of a terrible year, and good riddance to it. 2021 can't come fast enough, and with it the hope of the slow and steady return to some form of normalcy. Yet, amidst all the difficulty, there are still events and developments on campus that are worth noting. Here are a few highlights.
Vaccine arrival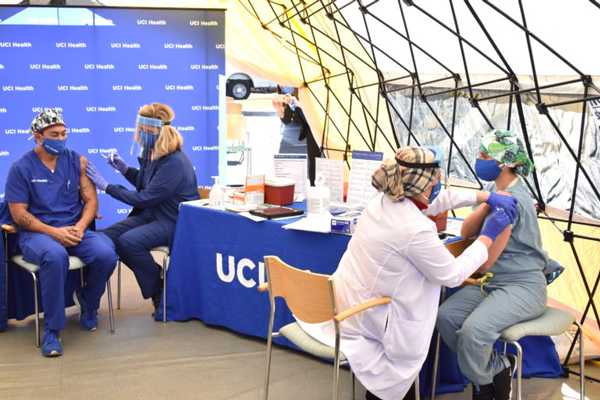 After much anticipation and planning, the great day finally arrived on Wednesday when the first shipment of COVID-19 vaccine arrived at UCI Health Medical Center in Orange. Within hours the first doses were administered to front-line personnel who directly care for COVID-19 patients. This marks the start of being able to fight back against this disease. A great day indeed!
This initial shipment was designated for healthcare personnel. As more shipments come in over the next weeks and months, the number of categories of people eligible to receive the most effective protection against contracting this coronavirus will expand, per federal and state guidelines.
Within a few months, we likely will have turned the corner and be on our way to returning to our normal lives. Please continue to wear your face covering, wash your hands, and practice social distancing. Students who will be returning to campus housing after the holiday break must be especially vigilant before their arrival so as not to bring the virus onto the campus. We've come this far; we can keep it up for a while longer.
Hope arrives in a vial 
Departure of law school dean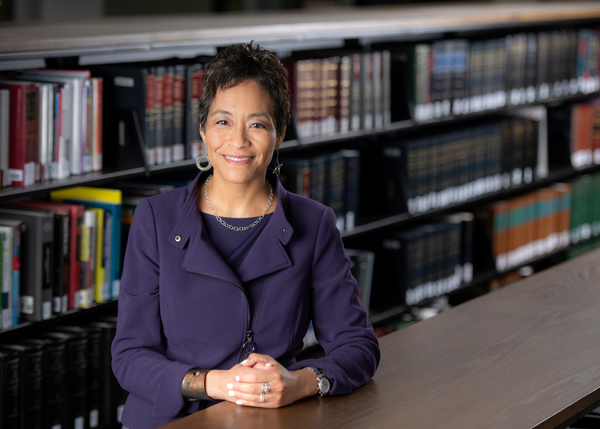 L. Song Richardson, dean of the UCI School of Law and Chancellor's Professor of Law, is stepping down to become the next president of Colorado College, effective July 1, 2021.
Since she joined UCI in 2014, Dean Richardson has fostered an innovative and diverse environment where scholars thrive on cutting-edge research and hands-on opportunities, throughout the campus and in the community. At the time of her appointment as dean in 2018, she was the only woman of color to lead a top 30 law school. Under her leadership, the school has risen to No. 27 overall in the U.S. News & World Report ranking of best law schools. Additionally, UCI Law is the No. 1 most diverse law school in U.S. News & World Report law school diversity index. Dean Richardson also established the UCI Law Committee on Equity, Diversity and Inclusion and appointed the law school's first associate dean for equity, diversity and inclusion and first assistant dean for student affairs and inclusive excellence.
Colorado College is a highly regarded, extremely selective private liberal arts college located in Colorado Springs, Colorado, known for its innovative academic programming. This is a wonderful opportunity for Dean Richardson and I look forward to all that she will accomplish there.
Faculty honors
Dr. Henry Samueli, Distinguished Adjunct Professor in the Department of Electrical Engineering & Computer Science, whose philanthropy has helped shape and advance this university, has been selected to receive the IEEE Founders Medal. The IEEE is the world's largest technical professional organization for electrical and electronics engineers. The medal, one of the organization's highest honors, is given annually to an individual or group who demonstrates outstanding contributions in the leadership, planning and administration of affairs of great value to the electrical and electronics engineering profession. Dr. Samueli, co-founder of communications giant Broadcom, Inc., was recognized for his leadership in research, development and commercialization of broadband communication and networking technology with global impact.
Dr. Susan M. O'Brien, associate director for clinical research at the UCI Chao Family Comprehensive Cancer Center, medical director of the cancer center's Sue and Ralph Stern Center for Cancer Clinical Trials and Research, and professor in the UCI School of Medicine's Division of Hematology/Oncology, has been named a Giant of Cancer Care® for her sustained contributions in the field of leukemia. An internationally recognized leader in the research of treatments for both chronic and acute leukemias, Dr. O'Brien is a pioneer of several important therapies now regarded as the standard of care for chronic lymphocytic leukemia. She has served as the principal investigator for more than 40 funded clinical protocols.
Nine University of California, Irvine researchers have been named fellows of the American Association for the Advancement of Science, the world's largest general scientific society. They are, in alphabetical order, Alan Goldin, professor of microbiology & molecular genetics in the School of Medicine; Steve Goldstein, vice chancellor for health affairs, as well as Distinguished Professor of pediatrics and physiology & biophysics in the School of Medicine and pharmaceutical sciences in the School of Pharmacy & Pharmaceutical Sciences; Travis Huxman, professor of ecology & evolutionary biology in the School of Biological Sciences; Thomas Lane, Chancellor's Professor of neurobiology & behavior in the School of Biological Sciences; Jennifer Martiny, professor of ecology & evolutionary biology in the School of Biological Sciences; Oladele Ogunseitan, University of California Presidential Chair and professor of population health & disease prevention in the Program in Public Health; Christopher Vanderwal, professor of chemistry in the School of Physical Sciences and pharmaceutical sciences in the School of Pharmacy & Pharmaceutical Sciences; Jack Xin, Chancellor's Professor of mathematics in the School of Physical Sciences; and Clare Yu, professor of physics & astronomy in the School of Physical Sciences. With this year's cohort, UCI has 185 AAAS fellows.
Charles G. Glabe, Distinguished Professor of molecular biology & biochemistry in the School of Biological Sciences, has been named a fellow of the National Academy of Inventors. His research focuses on the pathogenesis of amyloids in degenerative diseases, and he is being recognized for the creation of antibodies that bind to the four kinds of proteins forming the amyloid associated with Alzheimer's disease. The process enables scientists to detect individual forms of the disease more precisely, and the antibodies can be used as a screening tool and could help develop immunotherapies that slow or even prevent Alzheimer's. Professor Glabe also invented a technique for examining hundreds of antibodies in an individual's blood and identifying the disease-causing agents they target. The National Academy of Inventors Fellows Program is the organization's highest professional distinction awarded solely to academic inventors to recognize innovation that has made a tangible difference in quality of life, economic development and society's wellbeing. UCI now has 12 National Academy of Inventors fellows.
Judit Giró Benet, a researcher at the Center for Embedded Cyber-physical Systems with Professor Fadi J. Kurdahi and a recent graduate of the UCI master's program in embedded cyber-physical systems, has been awarded the James Dyson International Award for her biomedical device innovation, The Blue Box, a low-cost breast cancer detection system. The James Dyson Award is an international design award that celebrates, encourages and inspires the next generation of design engineers. She began developing the system during her undergraduate education at University of Barcelona, further refining it when she arrived at UCI last year as a Balsells Fellow. She beat out more than 1,800 entries to win the international competition.
Weian Zhao, a professor in the School of Pharmacy & Pharmaceutical Sciences, has received the UCI Beall Applied Innovation Innovator of the Year Award for his development of innovative technologies that have contributed to cancer and infectious disease research. In response to the pandemic, Professor Zhao collaborated with Philip Felgner, director of the UCI Vaccine Research and Development Center, and his startup companies to develop and launch a highly accurate serology test for COVID-19. He is also the co-founder of Velox Biosystems, Inc., Amberstone Biosciences, Inc., and Arvetas Biosciences Inc., three startup companies that aim to develop rapid and sensitive diagnostics, immunotherapeutics, and spatialomics, respectively. The Innovator of the Year Award "recognizes distinguished innovators who have demonstrated excellence by developing a breakthrough idea, process, or technology and shown its transformational potential to improve lives and create economic value."
Congratulations to all these scholars, who exemplify academic excellence and bring great prestige to UCI.
In memoriam
Sadly, our UCI community lost three longtime and valued members in recent weeks.
William Lillyman was recruited to UCI as chair of the Department of German in 1972 after stints at Stanford and UC Santa Cruz. He served as dean of the School of Humanities in 1973-1981, vice chancellor for academic affairs in 1981-1982, and executive vice chancellor in 1982-1988, after which he returned to the faculty. He was brought back by Chancellor Ralph Cicerone for another term as executive vice chancellor and provost in 2000-2002. An internationally recognized authority on Goethe, Professor Lillyman also earned renown for his very popular courses and lectures on fairy tales. He received numerous academic awards and honors, including the Extraordinarius Award from the UCI Alumni Association and, in 2000, the UCI Medal, our university's highest honor.
Frank Cancian spent his academic career studying the Mayan people of Chiapas, Mexico. He enjoyed professorial posts as an anthropologist at Stanford and Cornell before joining the faculty at UCI in 1976, where for 23 years, he taught undergraduates and graduates and conducted his anthropological research in Mexico. He chaired the Department of Anthropology in 1991-94 and served in a variety of other administrative roles. He was also a skilled professional documentary photographer, which he pursued avidly throughout his life.
Salvatore Maddi joined the faculty at UCI as director for the School of Social Ecology, and worked at UCI until 2015, when he received emeritus status. He was a pioneer in the research of stress as part of everyday life, and was noted for identifying the key traits of those who handle stress well and positing that people can develop these skills over time. Among his many honors was the Gold Medal in Lifetime Achievement from the American Psychological Association.
Our condolences go out to their families and friends.
Life in medical school
Speaking of stress, Ajay Nair Sharma and Daniel Azzam, students in the UCI School of Medicine have 
written
 a book about their and others' experiences with the highs and lows, the good times and the tough times, of medical school. 
Diary of a Med Student
 is a collection of 100+ stories from students at more than 50 medical schools across the country. The two classmates wanted to address rising burnout and the importance of mental health in medicine by showing fellow medical students they are not alone in their feelings. The book has been selling well since its September release, and the authors are donating the proceeds to a scholarship fund for incoming and current medical students. Kudos to Drs. Sharma and Azzam.
Life 101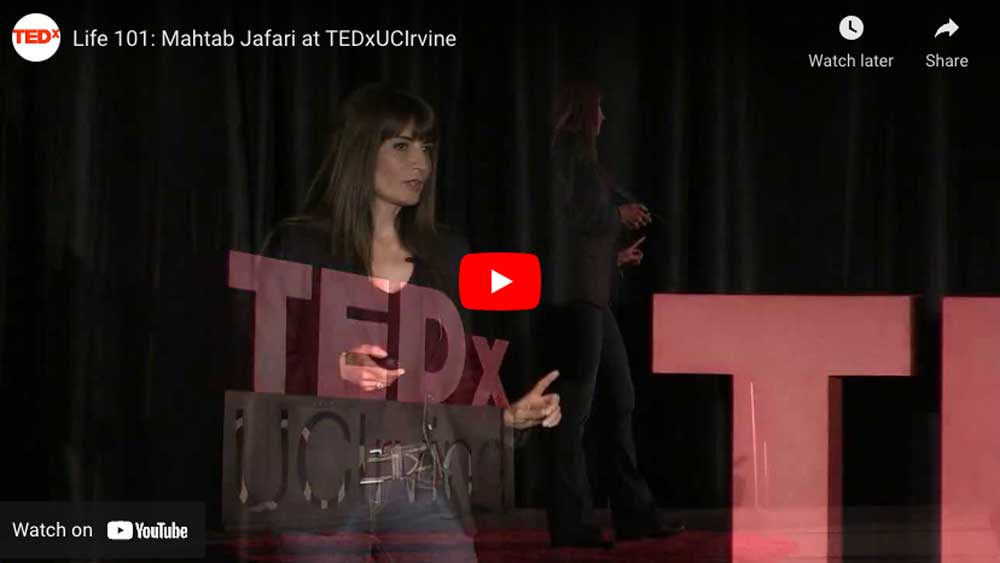 Anyone who has been through it can tell you that the adjustment to college is not easy. The tsunami of new experiences and responsibilities can be overwhelming. To help her students cope, a few years ago Mahtab Jafari, professor of pharmaceutical sciences in the School of Pharmacy & Pharmaceutical Sciences, created Life 101, a special course that teaches students how to manage stress and improve quality of life. From handling personal finances to finding affordable produce, the class equips students to approach the rest of their studies in the best frame of mind and body. The life skills class has proved so effective that it is now being made available online to all UC students on all 10 campuses this coming winter quarter. Congratulations to Professor Jafari on the success of her innovative and helpful course – I wish I could have taken it when I started college.
The search for dark matter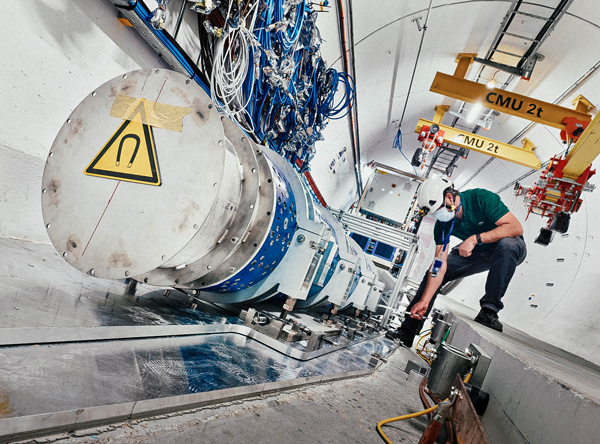 Hundreds of feet beneath a suburb of Geneva, Switzerland, is the Large Hadron Collider, the world's largest particle physics laboratory, where scientists study what happens when subatomic particles crash into each other at high speeds. UCI scientists have been helping conduct experiments there for some years, including the Nobel Prize-winning experiment in 2012 when the long-elusive Higgs boson was finally confirmed to exist. Now a team of researchers from the UCI School of Physical Sciences, led by Professor Jonathan Feng, is 
embarking
 on an ambitious effort to confirm the existence of dark matter. Physicists suspect that dark matter, which has never been detected in a lab, comprises most of the mass of the cosmos. Professor Feng and his colleagues have developed a new machine called a ForwArd Search ExpeRiment or FASER (in homage to 
Star Trek
) that they are installing adjacent to the Large Hadron Collider in hope of lifting the veil on dark matter. FASER won't detect dark matter itself, but it could detect something called a dark photon, a particle that would be how dark matter interacts with the rest of the stuff in the Universe. This is "big science" at its biggest, the search for how the Universe actually works, and UCI is at the forefront.
Best wishes for the new year
2020 has been a difficult year, for most of us the most difficult year we have ever known, and it is not hard to see it go. I am filled with respect and gratitude for all your efforts over the past months to keep our university, and indeed our entire Anteater community, going forward. From our alumni who keep the Anteater faith to our friends and neighbors who enable us to do what we do, from the extraordinary people of UCI Health who help us at our most vulnerable to our remarkable students who are our hope and inspiration, from our dedicated faculty who are making the world better to the hard-working staff who every day go above and beyond to keep the dorms clean, the grounds safe, the books balanced and the whole place running – I could not be more proud to be your colleague. Please accept my best wishes for a rewarding and healthy 2021.