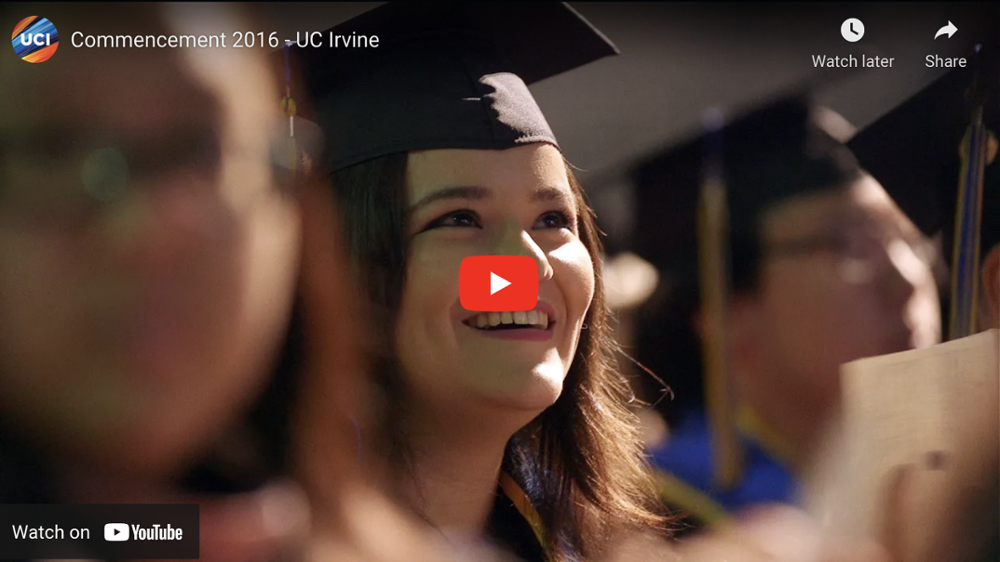 June is one of my favorite months of the year. It's a time of incredible happiness here as more than 8,000 students – half of whom are the first in their family to graduate – don the official regalia, turn the tassels on their mortarboards and embark on their brilliant futures as UCI alumni. There's a good reason we call this celebration "commencement." Students have earned their degrees, but their education has just begun.
At our 2016 commencement ceremonies, I shared the words of the great American philosopher John Dewey, who wisely said, "Education is not a preparation for life; education is life itself." This sentiment rings true in so much of what we do at UCI. What greater force than education has the power to propel individuals forward and transform their lives in such a meaningful way? You can read my full commencement remarks here.
Recently, an analysis of a new Student Achievement Measure of 54 colleges, funded by the Gates Foundation and Carnegie Corp., found UCI tied for first place in successfully moving students through their educational careers in a timely manner – a testament to UCI's commitment to maintaining the affordability of and access to a fantastic education for California students.
Rescue Robotics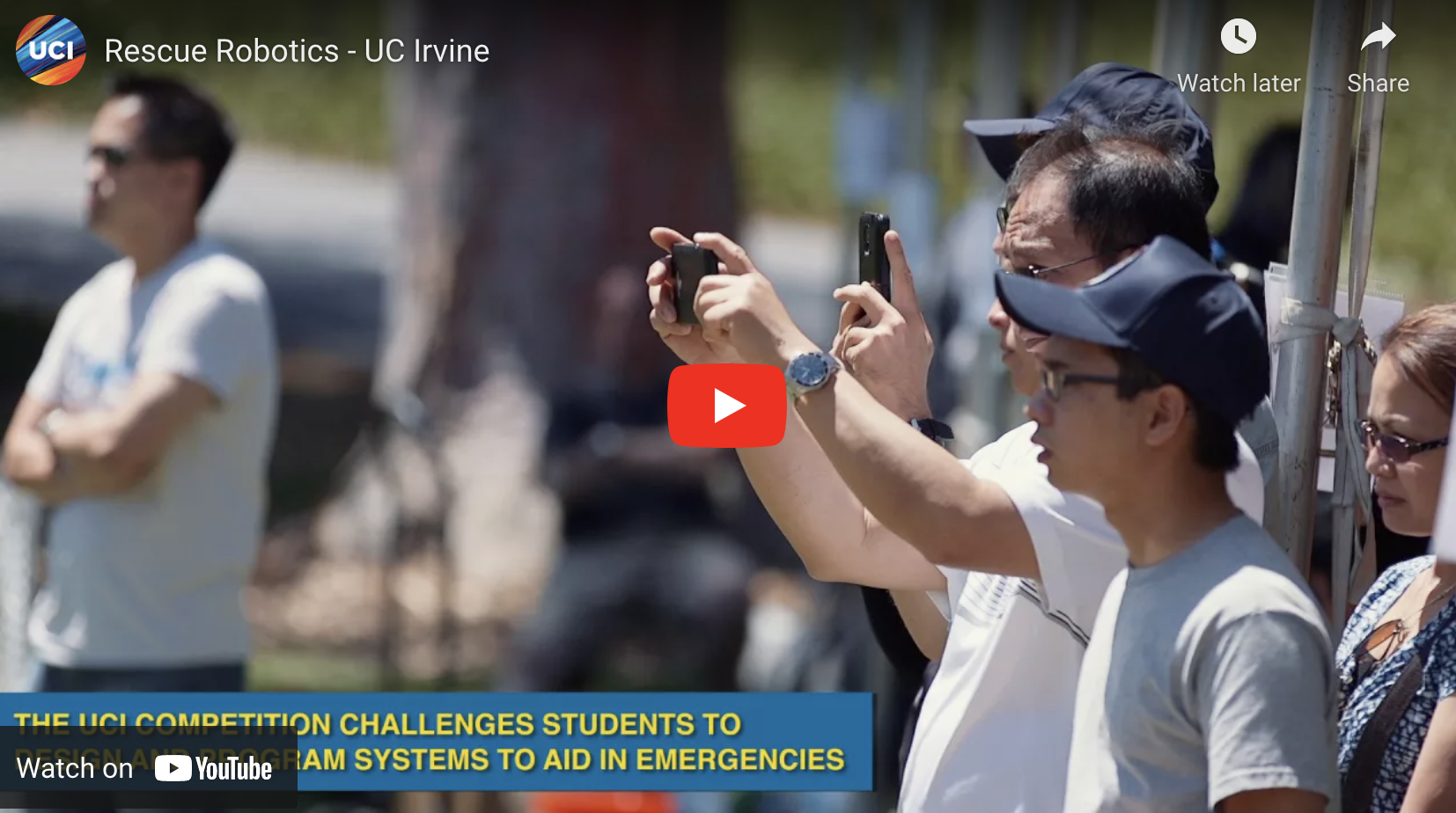 Last month, UCI joined several local colleges and high schools in the 2016 Rescue Robotics Invitational, a competition to develop robotic systems that can autonomously detect disaster victims – a task that required immense computer programming skills, understanding of the human brain and strategic mechanical design. Michael McCarthy, a professor of mechanical & aerospace engineering and faculty adviser, said the drones could significantly aid search and rescue efforts in the wake of natural disasters such as earthquakes, wildfires and mudslides. 
In addition to this specific program, UCI offers a wide variety of summer camp activities for K-12 students, including those focused on robotics, computer-aided design, mobile application programming and development, athletics and recreation, arts, writing and financial planning. A full list of youth camps is available here.
Catalyzing student entrepreneurs
Recently, dozens of student entrepreneurs went head-to-head for a share of $100,000 in cash and prizes as part of a competition organized by the Paul Merage School of Business and its Beall Center for Innovation & Entrepreneurship. Award-winning business plans ranged from a device that screens embryos before implantation to predict success to a therapeutic robot that aids in the treatment of people with autism spectrum disorder and attention deficit hyperactivity disorder. Participants had an opportunity to compete within three specific tracks – life sciences and clean technology, consumer products, and information technology/web. Prizes also were given for student plans related to intellectual property and alleviating poverty.
New vice chancellor for research
I'm excited to share that I have appointed Pramod Khargonekar, assistant director for engineering at the National Science Foundation and Eckis Professor of Electrical & Computer Engineering at the University of Florida, as UCI's new vice chancellor for research, effective June 30. In this role, he will be instrumental in driving key areas of our strategic plan, including promoting interdisciplinary practices and establishing seed funding programs to advance comprehensive research initiatives. Vice Chancellor Khargonekar's stellar career – as a researcher, educator and national leader – makes him an outstanding choice to lead our ambitious efforts to expand the scope and impact of our world-class research. He understands how science is evolving, the role of interdisciplinary coordination in addressing global and regional challenges, the important link between research and education, and the need to cultivate a broader innovation ecosystem. We are delighted to have him join the Anteater family.
UCI appoints Pramod Khargonekar vice chancellor for research 
Expanding eye institute
UC Irvine Health's Gavin Herbert Eye Institute recently received $2 million from the Discovery Eye Foundation, a Los Angeles-based organization that supports research, education, treatment and advocacy related to sight-threatening eye diseases. The substantial gift will establish the new Discovery Cornea Center and Discovery Retina Center, which will house the National Keratoconus Foundation and Macular Degeneration Partnership outreach programs and further the institute's work in the community. Discovery Eye has been a longtime partner of the institute, enabling UC Irvine Health professionals to shed light on life-altering eye diseases and make groundbreaking contributions to macular degeneration studies.
Gavin Herbert Eye Institute gets $2 million to establish cornea and retina centers 
Health and medical research
UCI research spans from the far reaches of the galaxy to the vast communities of microorganisms known as microbiomes. Katrine Whiteson, assistant professor of molecular biology & biochemistry and pediatrics, studies these microorganisms that live on or in people, animals, plants, soils, oceans and the atmosphere to understand the complex ways they maintain health and wreak havoc in these diverse ecosystems – from aiding digestion to contributing to cystic fibrosis. Recently, she was invited to Washington, D.C., where the White House Office of Science & Technology Policy announced the new National Microbiome Initiative. The project seeks to advance research on microbiomes to develop useful applications in healthcare, food production and environmental restoration. Professor Whiteson led the formation of the UC Center for Pediatric Microbiome Research, a joint effort to gain understanding of microbial development in childhood and promote pediatric health.
Every year, nearly 800,000 people in the U.S. experience a stroke, making treatment of debilitating side effects ever more important. Greg Hickok, professor of cognitive sciences and director of the UCI Center for Language Science, has received $16 million in funding from the National Institutes of Health in the last 15 years for his research on how neural abnormalities affect language and speech. Recently, Professor Hickok has worked with the University of South Carolina and Johns Hopkins University to study aphasia, a speech impairment disorder often caused by stroke characterized by a loss of ability to speak, read or write. The project utilizes Professor Hickok's dual-stream model suggesting that speech is processed in the brain along two neural pathways – one for understanding speech and another for producing speech. The researchers hope their work will lead to better diagnosis and treatment of aphasia, which could greatly enhance the quality of life for stroke survivors around the world.
UCI's outstanding staff
UCI staff play an instrumental role in making sure our campus operates at the highest level. Last week, we honored these exceptional Anteaters at the Staff Service & Excellence in Leadership Awards. I am incredibly proud to say that UCI is a place not only where faculty members and students can flourish in their research and educational endeavors, but also where staff members can build rewarding careers knowing their dedicated efforts will have a lasting impact on all who touch the university. UCI is the second-largest employer in Orange County, and I firmly believe that many of our staff members choose to work here because furthering the university's mission is a worthwhile calling.
Closing our 50th anniversary celebration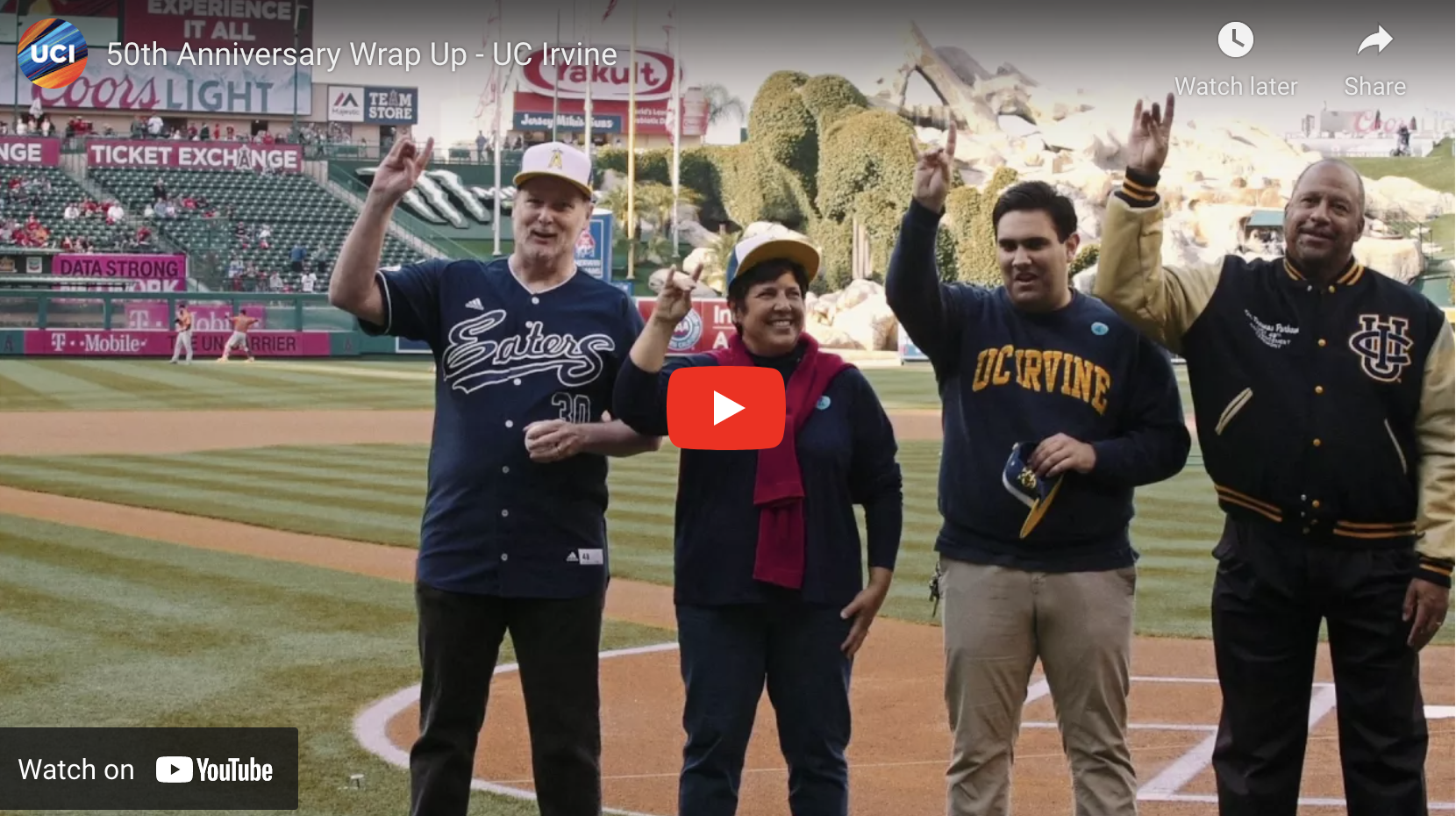 The time has officially come: Our 50th anniversary is over. I know many of you may find this hard to believe, but we must put away our decorations and face the joys of middle age. No longer are we a bright, young, up-and-coming university in Orange County's backyard. UCI has matured into an elite research university that stands with the best of the best – and I think we look pretty good for our age.
This month, we concluded our 50th anniversary festivities with a special ceremony for the Anteater family and friends. It's been a fantastic two years with a lot of memories – a visit from President Barack Obama for a campuswide commencement ceremony at Angel Stadium, thousands of hours of volunteer work for the local community, a celebration of our founders, a festival to highlight the beauty of discovery and inquiry, the close of our successful $1 billion fundraising campaign, and a series of academic symposia on UCI's phenomenal research. You can watch a highlights video of our 50th anniversary below.
Every Anteater – past and present – has left a tremendous mark on our campus. We could not get to the place we are today without the vision and entrepreneurial spirit of our founders, and we could not continue to thrive without the determination and support of our faculty, staff, students, alumni and friends. During the celebration, many of you shared your memories, which have been incorporated into the "UCI Stories" exhibit in Langson Library's Muriel Ansley Reynolds Gallery through September. I hope you will venture over to the library this summer to take a look at the people who have shaped our bright past and brilliant future.