Every month during the academic year I will be sending out a message to our faculty, students, staff, alumni, and supporters highlighting some exciting developments on the campus or some outstanding accomplishments by members of our community. It is not possible for me to highlight all the great work done at UCI – we try to cover a lot of it on our websites and news releases and deans' messages – but I hope that a monthly message from me will help you learn about matters that may have escaped your attention and will empower you be an even better ambassador on behalf of our university.
Convocation
One of the things I enjoy most about this time of year is the way the campus comes back to life with the return of students at the beginning of the academic year.

This year, UCI handpicked 7,400 new students from 83,000 applications for admission. More than half of those new students are the first in their family to pursue a four-year degree. The Class of 2018 is full of bright, talented, and ambitious students that embody our university's values. At our fall convocation ceremony I offered our new students some remarks that were designed to enlarge their vision of what it means to attend one of the world's great research universities, and to see this opportunity in terms of what it means for their personal development and for the creation of a free and just democratic society.  We are all committed to ensuring that an education at UCI will give our students the necessary tools to thrive and succeed on whatever path they choose, but we will also keep in mind the great social value of an institution dedicated to the pursuit of knowledge for the benefit of human enlightenment and social progress.
All about fall's new faces 
Breaking new records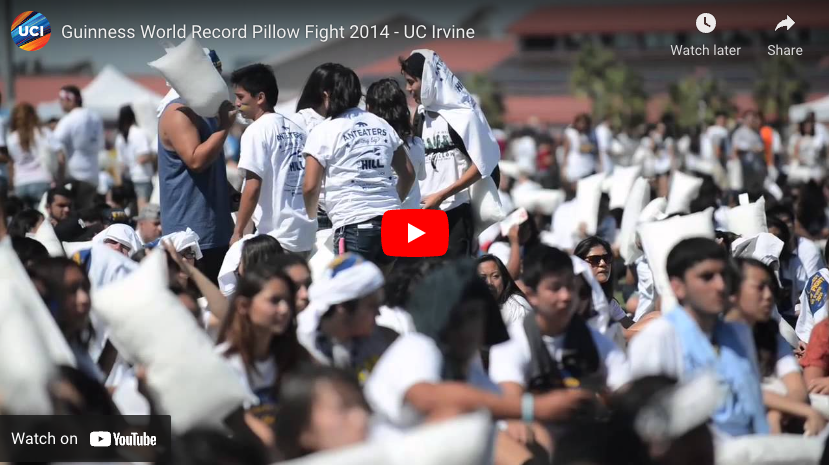 To welcome our Anteaters back to campus, we wanted to build a foundation of inclusion and school spirit. What better way to bring students together than to make history by partaking in a university tradition – breaking a Guinness World Record. On September 30, more than 4,000 students participated in the pillow fight to end all pillow fights. UCI is not only lauded for academic, research and athletic achievements, we now proudly hold world records for largest pillow fight, largest game of dodgeball, and largest water pistol fight.
Illuminations: UC Irvine Arts and Culture Initiative
The start of an academic year not only brings fresh faces to the campus, but also new opportunities for our campus to explore and grow. Last week I announced the launch of Illuminations, our new Chancellor's UC Irvine Arts and Cultural Initiative. Led by Professor of English, Comparative Literature, and Education Julia Lupton, Illuminations aims to give all of our students – regardless of their school or their major – a chance to benefit from serious engagement with the creative arts, and to explore our vibrant Southern California arts and cultural community. We will be working with regional arts leaders, including Segerstrom Center for the Arts, Pacific Symphony, South Coast Repertory, and Bowers Museum, to develop a repertoire of programs on and off campus throughout the academic year. We will also be asking faculty and students from around the university to propose events and experiences that are especially designed to illuminate issues of special interest to people associated with particular schools and programs. My hope is that students will experience the sheer joy of creative expression and come to understand more deeply how the arts provides essential perspectives on all issues we are working to better comprehend. I also hope that this initiative will allow us to make even stronger contributions to the vitality of the arts in our region.
UCI faculty honored for published works
Our outstanding faculty publish important, path-breaking work every single day and I encourage you to learn as much as possible about the contributions they are making in areas where you have a special interest. Recently, two of our colleagues have received special recognition for their published works.
School of Law Dean Erwin Chemerinsky's new book The Case Against the Supreme Court has been widely reviewed and discussed, starting an important conversation about the role of the Supreme Court in our political system; see, for example, an article that appeared in Slate.
This year we also celebrate award-winning novelist and Distinguished Professor of English and Comparative Literature Ngũgĩ wa Thiong'o on the 50th anniversary of the publication of his book
Weep Not, Child
. Ngũgĩ is
being recognized
this month by the East African Educational Publishers for this tremendous accomplishment.
Interdisciplinary Center on Family Violence
As one of the central anchoring institutions for Orange County, UCI and its faculty and students make extraordinary contributions to our region in many ways. One exciting recent example is our new Interdisciplinary Center on Family Violence. The center operates under the leadership of Professor of Nursing Science Ellen Olshansky, Assistant Clinical Professor of Law Jane Stoever, and Professor of Obstetrics and Gynecology Julianne Toohey. By bringing together expertise in biological and physical sciences, engineering, information & computer sciences, art, law, medicine and health sciences, social sciences, and social ecology, the ICFV aims to be the premier site for research, education, clinical care, and community collaboration on family violence prevention and intervention. It's a great example of the unique impact that a major research university can have on the well-being of the community.
UCI opens Interdisciplinary Center on Family Violence 
UCI to create brain cell activity library
Of course, a major research university does its foundational work when it is exploring the frontiers of knowledge on vitally important topics. One recent recognition of our leadership was the award to UCI of $8 million from the National Institutes of Health to establish one of six national centers dedicated to creating a database of brain cell activity in motor neuron disorders, such as ALS. Led by Professor of Psychiatry & Human Behavior, Biological Chemistry, and Neurobiology & Behavior Leslie Thompson, this research will be instrumental in developing new treatments for diseases that impact thousands of people every year. In this effort UCI will work alongside five other renowned medical centers and institutes: UC San Francisco, Johns Hopkins University, MIT, Cedars-Sinai Medical Center, and the Gladstone Institute of Neurological Disease.
As you can see, we're off to a great start. I look forward to keeping you informed and connected to the Anteater family throughout the academic year.